________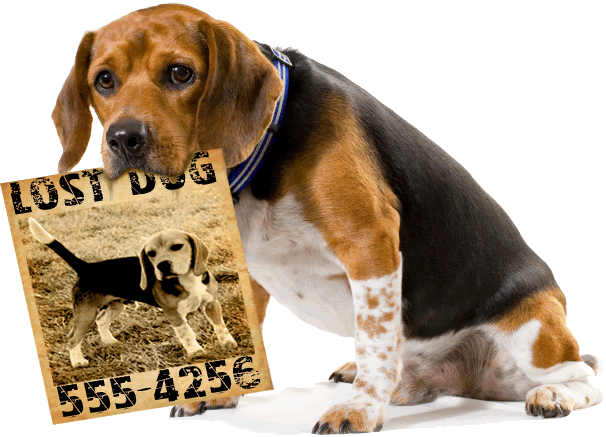 What should I do if my pet is lost?
YOUR PET IS MISSING!!!
The sooner you get started, the greater your chances are of recovering your lost pet.
The following suggestions highlight important steps to take.

• Utilize the EARS® Digital ID and create a highly visible and colorful MISSING PET ALERT FLYER. Lost pets are often found within a mile or two of their home. Complete the EARS Digital ID form, load your printer with colorful paper and select Print from the tool bar options. Be sure the black text contrasts well with the paper color; you want people to be able to read the words at a distance.

• If you can, offer a reward (but do not state the amount of the award on the flyer!)

• In order to avoid becoming an unwitting victim of fraudulent activity, DO NOT include your address or your full name.

• It is also important to WITHHOLD some of your lost pet's specific identifying characteristics. This will help you determine
if the caller actually has your pet.

• Post the EARS MISSING PET ALERT FLYER in your neighborhood. We suggest telephone poles, other street structures, stores (grocery stores, drug stores, video stores, gas stations, etc.) veterinary clinics, groomers, pet boarding establishments and local park and recreational areas.

• When posting the EARS MISSING PET ALERTS FLYER at Veterinary Clinics and Groomers' establishments, take a moment to tell the Vet and Groomers about your lost pet. If your pet is brought to them in need of medical care or grooming, they will have your information available and can contact you.

• Search for unusual "hiding" places around your home, including storm drains, ditches, and other dark places.
And don't forget to bring a flashlight! If your lost pet has been injured, it may have crawled into a small space close
to your home for safety.

• Search your neighborhood and make plenty of noise. Call your pet by name, make some other familiar sound or bring
along a favorite squeaky toy. But be sure to stop and listen periodically in case your lost pet makes noises in response
(such as whining, barking or meowing).

• Talk to your mail carrier, newspaper delivery person and anyone who is regularly in your neighborhood. Ask them to keep an eye out for your lost pet.



Take someone with you and go door-to door to talk to all the residents in the area where your pet was lost. Leave an EARS MISSING PET ALERT FLYER with each person you speak to. If no one is home, leave an EARS MISSING PET
ALERT FLYER on the porch. You will be surprised how many neighbors will keep a watchful eye out once they know
your beloved companion is missing!
*Check with your local law enforcement on the rules and regulations on hanging flyers in certain areas of your city.